I was thinking a bit. On some CPU vs. CPU games, as well as some Player vs. CPU games to a lesser extend, I sometimes see defenders clearly catch the ball, then all of a sudden the ball pops out of their hands. Like, they dropped them for no reason other than a defender was close. That was annoying me as it killed drives and completion %. But it got me to think. Why are they dropping the ball when they clearly got possession of the thing. Is not like they got hit hard to force a drop, their assigned defender was just close to them and suddenly they let it go without a hit.
I started looking around a bit. Madden NFL 08 Gen6 has no reference to Catches In Traffic, but Madden NFL 08 Gen7 does. There is a whole player weapon dedicated to the Catch in Traffic rating. And the image of what the weapon does shows something interesting.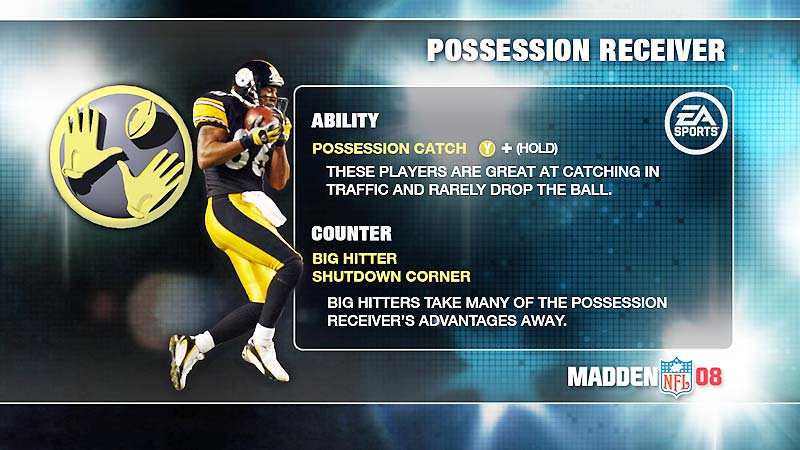 Hi Hines Ward. According to the Possession Receiver weapon in Gen7, to make catches in traffic, you would need to HOLD the Catch button to keep the ball under control. Not just tap it, but hold it.
So I'm thinking, maybe on some plays the CPU "Holds" the catch button (Or catch command in this case), and on some of those dropped passes, the CPU just "taps" the catch command and doesn't complete the full catch. This might also affect Spectacular catches, like the one handed catch animation. Many times I've seen receivers trigger a one handed catch animation, only for him to drop the ball.
Basically, the 2 factors that alter catches in traffic are: The Catch rating, and whenever the catch button/command is held through the full catch animation.
I will test this to see if it affects receivers the way I think it does.